---
Biology as Poetry: Cell Biology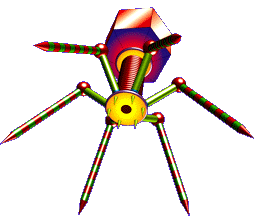 Microfilament
Cytoskeleton member consisting of actin <!!a href="protein_subunit.html" title="Protein subunit">subunits.

Microfilaments posses the smallest diameter of the cytoskeleton components of <!!a href="animal_cell.html">animal cells, versus the larger intermediate filaments and still larger microtubules. Microfilaments are most recognizably involved in the actin-<!!a href="myosin.html">myosin complexes which effect the <!!a href="muscle_contraction.html" title="Muscle contraction">contraction of <!!a href="muscle_cell.html">muscle cells.

<!img src="http://www.BiologyAsPoetry.com/images/microfilament.png" alt="Microfilament" title="XXX" ID=Image_1 border=0>

Though not limited to this function, microfilaments generally are involved in effecting movement or otherwise exerting force within cells. This movement/force within cells is simply effected on a grand scale, though still entirely within cells, to generate <!!a href="muscle_contraction.html">muscle contraction.

For more on this topic, see Wikipedia and Google. Contact web master. Return to home.