Lipid
∞ generated and posted on 2016.08.22 ∞
Relatively large biological molecule that mostly does not dissolve in water.
Lipids include fats, oils, cholesterol, a number of steroid <!!a href="steroid_hormone.html" title="Steroid hormone">hormones, the major constituents of cell membranes, etc.

Lipids are predominantly hydrophobic substances, though can have hydrophilic portions as well. An example of the latter are lipids associated with <!!a href="membrane.html">membranes, that is, lipid bilayers, include phospholipids and the molecule, cholesterol.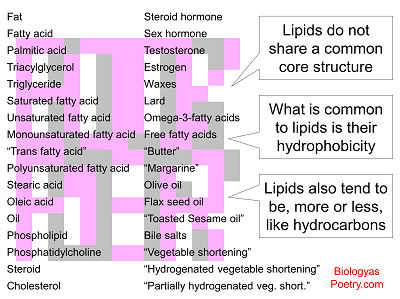 Figure legend: A diversity of lipids, some familiar, others less so.
Unlike proteins, carbohydrates, and nucleic acids, lipids are less homogenous in terms of their structures. In particular, lipids do not have a consistent subunit from which they are <!!a href="polymerization.html" title="Polymerization">polymerized but instead are categorized together as a group based upon their relative inability to <!!a href="dissolve.html">dissolve in aqueous solutions. That is, they are oil-like in the generic sense of that term.

The following is a list of terms associated with lipids:

<! List was cut and pasted from index page on 2012-05-17 >Cholesterol, Fat, Fatty acid, Glycerol, Lipid, Lipid A, Lipid bilayer, Lipopolysaccharide (LPS), Oil, Phospholipid, Saturated fatty acid, Steroid, Triglyceride, Unsaturated fatty acid

The following video provides a nice introduction to lipids:
<!BR>