---
Biology as Poetry: Micro Pharmacology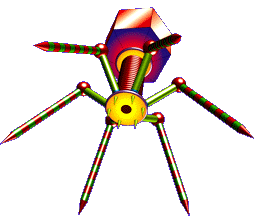 Microbial Pharmacology
Development and application of chemicals especially to cure or control infectious disease.

Obviously this is an amalgam of the concept of microbiology or microorganism with that of <!!a href="pharmacology.html">pharmacology, dealing especially with use of germicides, antibiotics, <!!a href="virucide.html">virucides, <!!a href="fungucide.html">fungicides, etc., but also disinfectants. As such, I am employing the concept more as an organizing principle rather than making any claims that it is widely used as a term.
The following is a list of concepts terms associated with the mircrobial pharmacology:

<! List was cut and pasted from index page on 2012-03-04 > Absorption, Antagonism, Antibacterial, Antibiogram, Antibiotic, Antibiotic resistance, Antibiotic sensitivity, Antibiotic target, Bacitracin, Bactericidal, Bacteriostatic, Beta-lactam antibiotics, Beta-lactam ring, Beta lactamase, Broad spectrum of activity, Broth dilution test, Carbapenems, Cephalosporins, Chemotherapy, Chloramphenicol, Chromosomal resistance, Disk-diffusion method, Drug, Enzymatic inactivation of a drug, Erythromycin, Fusion inhibitor, Integrase inhibitor, Macrolide antibiotics, Minimal bactericidal concentration, Minimal inhibitory concentration, Minimum inhibitory concentration (MIC), MRSA, Narrow spectrum of activity, Nucleoside analog, Penicillins, Phage therapy, Pharmacodynamics, Pharmacokinetics, Polypeptide antibiotics, Presumptive treatment, Prevention of penetration to target site, Protease inhibitor, Quinolones, Rapid efflux, Resistance plasmid, Rifampin, Selective toxicity, Semisynthetic, Side effects, Spectrum of activity, Sulfanilamides (sulfa drugs), Superinfection, Synergy, Synthetic drug, Tetracyclines, Vancomycin, VRE, Zone of inhibition<!, >
For more on this topic, see Wikipedia and Google. Contact web master. Return to home.